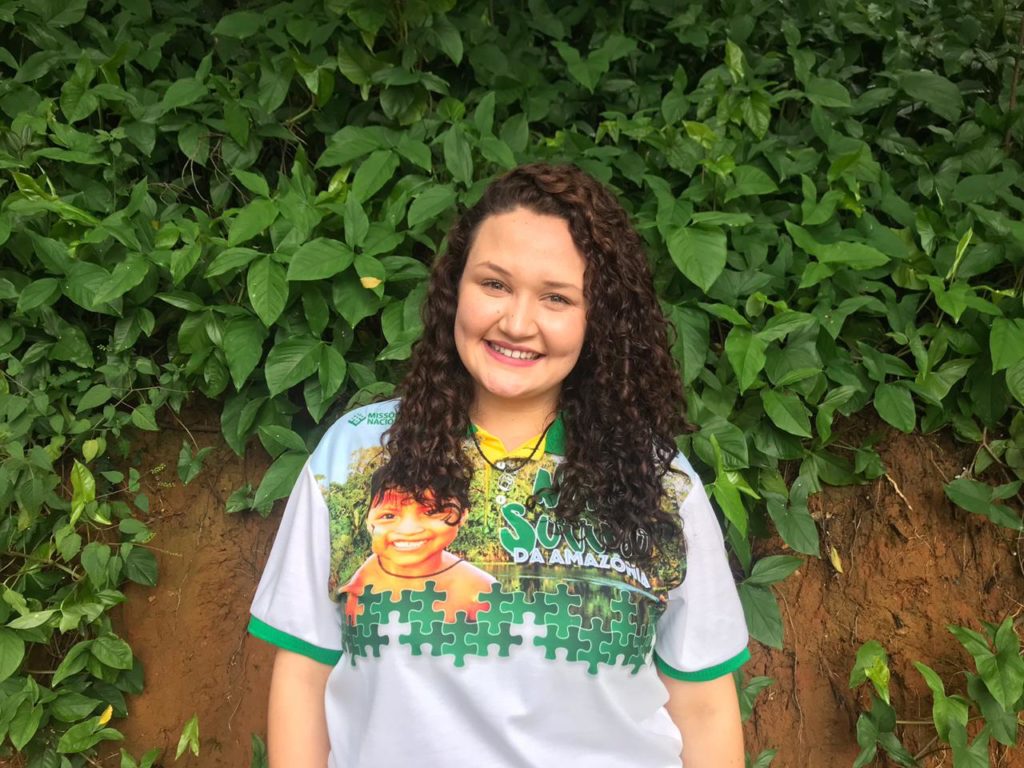 The desire to be a radical in the amazon
May 20, 2019
While young people all over Brazil are deciding which career to pursue, which course should do to be better prepared for the job market, aiming for a good salary and personal success. There are others who decide to dedicate their life, or at least some time of it, exclusively for the propagation of the Gospel in our country. This is the case of the young Danielle Roque Beneta, only 19 years old, who after completing her high school, traveled to Amazonas to join the program Radical Brazil. As a member of the First Baptist Church of Alcântara, Dani, as she is called by those closest to her, will leave in Rio de Janeiro her parents, Daniel and Marcia, and her brother, David, to fulfill his missionary call.
Home Missions Board:
You attended your mission call at Camp "Tamo Junto" in 2018. How was to be a part of this program?

Danielle:
I received my calling a long time ago during a small group in home church as a missionary spoke. However, God told where to go only in 2018 at a camp, from Home Missions Board, named "'Tamo Junto". It was a completely different camp from others I had attended, this camp was totally geared towards motivating young people and teenagers to accept the Lord's call to our lives. From the first activity we were impacted with the reality of our Brazil, understanding the size of the urgency of having more people working in the mission fields.
We heard testimonies of Radicals and other missionaries who donated their lives for the evangelization of our country and for every testimony, my heart burned wanting to be part of it.
Home Missions Board:
What did this camp change in your life?

Danielle:
It was a watershed in my life! I received my missionary call at the age of twelve in a messenger's camp on the day Mrs.Helena was preaching, but until the camp I did not know where God wanted me to be a missionary. I always had in mind that I would be a Radical in Cristolândia, I love this project and I vibrate and thrill with every transformation stories that we see, but there, at "Tamo Junto", God began to put a fondness on my heart for the riverside people, for who I had never felt anything before. I know the work in the Amazon is beautiful, but it never crossed my mind that it would be my field. So, in this camp I clearly understood that God was calling me to the Amazon, through the testimonies of the radicals and what He was putting into my heart. I was challenged to be a Radical, to listen and answer the Lord's call for my life. There we understood the importance of living in dependence on God and dedicating our youth to Him.
Home Missions Board:
With so many other places, why do you believe that the Amazon is your mission field?

Danielle:
I did not choose the Amazon, God did it for me!
I say that because leaving almost 3,000 km away from home is frightening. Spending Christmas, New Year and birthdays distant from the family is not easy, but when God commission it is difficult not to accept.
I have participated in two editions of mission trips at the boat "The Missionary". There I could get to know, from close, the reality of what I had heard so much about. It is impossible to see and be inert to all that. Indeed, the riverside people lack medical care, sometimes food, they live kind of isolated, sometimes without light, internet and transportation. But what they need more is hear about the Gospel, and this love that transforms and restores. My heart is full of joy to know that I will be part of God is doing among the riverside people. Now, my people!
Home Missons Board:
How was the reaction of your family, your friends, and your church when tey heard about your decision?

Danielle:
My family, especially my mother was very fearful, natural to every mother, but at no time she tried to stop me. When I came back from the camp and told what I had felt in my heart, she said, "Who am I to prevent the will of God in your life?" She often cries because she knows that missing me being around is inevitable, but she is happy to know that I am going to where the Father has chosen for me.
My friends and my church have given me all the support, with prayers, surprises, messages and letters. Receiving all this affection and encouragement has shown me, confirming every day that is God's will for me.
Home Missons Board :
And how is the expectation for this new period of your life?

Danielle:
I hope to be used by God to impact lives in the riverside communities. To live in a simple way, presenting Christ through fellowship and relationship with those people. I know how great challenges will be, but when God calls us, He sustains and empowers us.
We have a major challenge ahead of us, there are about 10,000 communities with no evangelical church presence, entire families that have perished without having the opportunity to hear about Jesus.
As we read in Romans 10:14, "How, then, can they call on the one they have not believed in? And how can they believe in the one of whom they have not heard? And how can they hear without someone preaching to them?"
I don't want to stay out of what God is doing in Brazil!
Praise God for the life of this and other young people who were presented as the 15th Radical Amazonian Group!